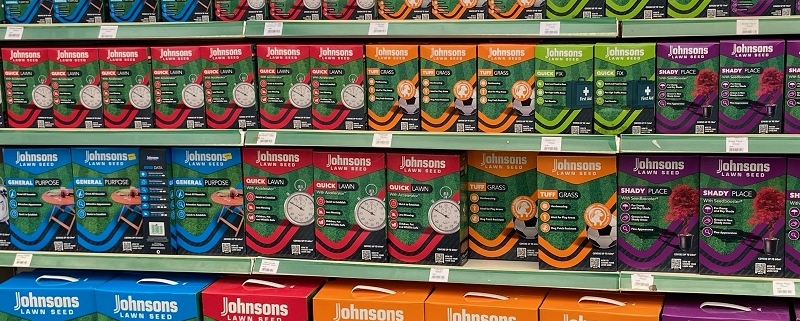 Johnsons Lawn Seed ensures the continued growth of best sellers
Market-leading lawn seed supplier Johnsons Lawn Seed is a 2023 spring winner with retailers as it reports bumper sales of the company's innovative lawn mixes and formulas.
The UK's oldest and most trusted lawn seed brand's bestselling spring portfolio included Tuffgrass with Patch Resistance, Quick Lawn, Lawn Thickener and Super Smart Lawn Feed products which soared off retailers' shelves as the 2023 season began.
Mixtures have all been improved to ensure quicker germination and establishment in lower temperatures, which will boost retailers' profits in 2023. As well as requiring less fertiliser and watering than standard grasses, the newly formulated bestsellers are more tolerant to drought, develop greener lawns, and are resistant to dog patches.
The newly reformulated mixtures are a result of Johnsons Lawn Seed's commitment to developing innovative products, supported by an extensive grass research and breeding programme and feature the following benefits:
• Tuffgrass with Patch Resistance: In a revolutionary mix, 168 grass varieties were vigorously tested before tetraploid fine-leaved dwarf perennial ryegrass was discovered to offer superior resistance to dog urine. As a result, Tuffgrass offers a lawn with improved colour and hardiness that will germinate at temperatures as low as 4°C is more drought. Tuffgrass lawns are stress-tolerant and also require less maintenance and irrigation. The result is a lawn that uses less water, preventing excess water waste and enabling consumers to live more sustainably.
• Quick Lawn: Quick Lawn with Accelerator-treated seed offers accelerated germination and requires just a third of the amount of water needed for lawn establishment. The clever technology rapidly directs a carefully formulated blend of bio-stimulants in the seed coating – including seaweed extract, humic acids, amino acids, micronutrients and root developers – into the seed. This method is not only efficient in getting lawns started, it provides up to 38% more grass in the first seven days than non-coated seed.
• Lawn Thickener: Lawn Thickener with Seedbooster® guarantees more grass than uncoated grass seed and faster germination thanks to Seedbooster® pre-applied slow and fast-release nitrogen coatings. This has seen a lot of consumer interest and has proven popular for this year's gardening season, as lawns need TLC following a dry summer and wet winter.
• Super Smart Lawn Feed: Super Smart has something special that the other feeds don't – Azospirillum bacteria – it takes nitrogen from the atmosphere and gets it to your grassroots. Retailers have reacted positively to the combination of soluble mycorrhizal fungi to foster root growth and seaweed extract to supply micronutrients with lawns being revived over spring.
https://landscapingmatters.co.uk/wp-content/uploads/2023/05/jls-display-in-bgc-64660e97cff35.jpg
536
800
lm-admin
http://landscapingmatters.co.uk/wp-content/uploads/2022/02/LM-logo-1.png
lm-admin
2023-05-24 08:53:02
2023-05-24 08:53:02
Johnsons Lawn Seed ensures the continued growth of best sellers