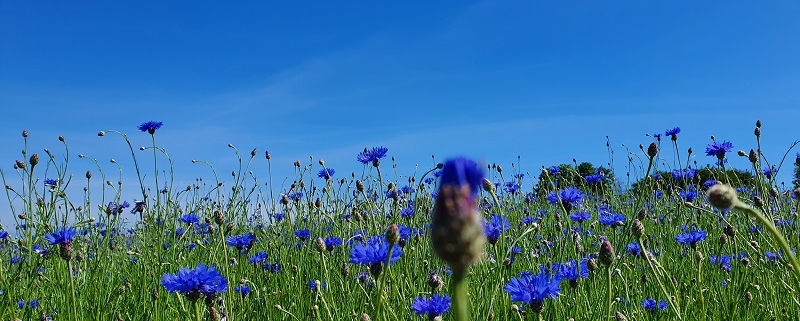 Mission to rewild the UK's lawns as wildflower production ramps up
Wildflowers and meadows are admired in the UK for their beauty and importance to pollinators.
With the demand for rewilding continuing to rise, Johnsons Lawn Seed is going one step further by increasing production of its native wildflower mixes, which can be seen at Glee (stand 20H40-J41) and will allow retailers to continue to bloom, year-after-year.
The UK's oldest lawn seed brand is committed to tackling climate change and biodiversity loss by promoting plant and insect life through rewilding of the nation's gardens, verges and other grassland areas. Recognising that this is also a great opportunity for retailers, Johnsons is ramping up its wildflower seed offering. Seeds are provided by third-party growers and mixed in-house for optimum customer and consumer needs.
Embarking on an extensive three-year business case testing, led by Wildflower Production Manager, Klaas Broersma, DLF UK has worked hard to meticulously cultivate various wildflower species and assess their adaptability, growth patterns, and yields to suit the UK's lawns. The result is intended to feed the environmental consciousness amongst increasing numbers of consumers, whilst beautifying Britain with as many wildflowers as possible.
Tim Kerridge, Managing Director of DLF UK, found a way to make wildflower production successful with the expertise of the in-house R&D team. "We started to create some wonderful mixes that will set retailers' tills ringing and appeal to consumers who want to their environmental bit. By doing this we are creating better quality wildflower mixes, which is something previously not offered in the market," he said.
DLF UK is now expanding production efforts after a successful testing phase, which has seen 31 species of native-origin wildflowers being grown and increased their crop yields by up to 40%. With the insights gained from testing, they plan to increase cultivation and relocate back to their Inkberrow offices and warehouse on a 14-hectare arable farm for greater production capabilities in the area.
The result is Johnsons Country Wildflower Meadow mix, designed to create an eco-friendly wildflower meadow in the backyard or front lawn. The gorgeous mix of native wildflowers includes Birdsfoot Trefoil, Black Medick, Black Knapweed, Common Vetch, Meadow Buttercup, Oxeye Daisy, Ribwort Plantain, White Campion, White clover, Self Heal, Yarrow, Musk Mallow and Red Campion, are all highly popular with pollinating insects and look good in an urban setting too.
This was closely followed by the launch of Celebration Wildflower Tins last year, which contain 15 types of wildflowers that grow to different heights and at different times so over the course of a summer, gardeners will get an array of colours, blooms, scents and foliage covering up to 15 square metres.
Guy Jenkins, Consumer Manager at Johnsons Lawn Seed, said: Not only is it good to have wildflowers in your garden but, by producing them on-site at Inkberrow on such a scale, we are creating a fantastic environment for pollinators. All the species grown on the grounds are allowed to complete the flowering cycle so we can harvest the seed, satisfying the consumers' desire to maintain habitat creation and stop pollinator decline. By growing the wildflowers and letting nature take over it increases diversity and encourages the ecosystem to flourish."
View the full range of mixes at Glee on stand 20H40-J4.
https://landscapingmatters.co.uk/wp-content/uploads/2023/06/jls-wildflower-cornflower-6495628154eff.jpg
600
800
lm-admin
http://landscapingmatters.co.uk/wp-content/uploads/2022/02/LM-logo-1.png
lm-admin
2023-06-26 09:59:15
2023-06-26 09:59:15
Mission to rewild the UK's lawns as wildflower production ramps up