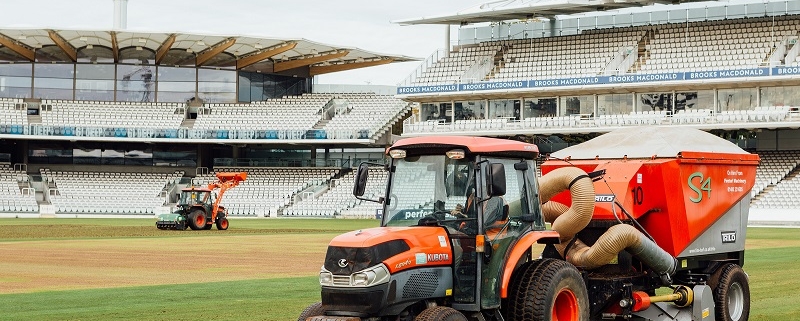 Twenty-plus Trilos deliver 20-plus years of reliability for leading contractors Fineturf
Whether it's for the collection of grass clippings or debris following scarification, or out on hire during autumn's leaf fall season, Fineturf have got a Trilo machine for the job.
It's more than 25 years since Owner Simon Hutton purchased his first refurbished Trilo and, more than two decades on, that SG700 continues to deliver reliable service alongside more than 20 other vacuum units from across the Trilo range.
An extensive fleet of equipment assists Simon and the teams across the group of companies which includes Tillers Turf and Fineturf Machinery – delivering maintenance and contracting services to leading venues across the sporting spectrum.
Undertaking work on racecourses, football pitches, cricket, tennis and fine turf surfaces demands flexibility from their machinery, with a wide variety of Trilo machines used for a multitude of tasks.
Simon explains "Over the businesses we have an SG700, an SG1165, four SG1100's, 11 SG400's, an S3, two S4's and an S12 – all purchased at different times when workload has demanded the investment. The higher capacity machines such as the S12 and SG1100's are used primarily for grass collection and large scale clearance work such as post-concert clean-ups.
"The mid-sized and smaller units including the SG700 with its 7m3 capacity are used for contracting and contract hire – vacuuming after koroing, or after scarifying cricket outfields for example."
"There are three things we really like about the Trilo brand; namely the simplicity of use, build quality and reliability we get from the brand. It's equipment that stands the test of time!" An example of that is the SG700, which was refurbished by Trilo's Jeremy Vincent more than 25 years ago and still out working today.
"As we speak, that machine is up at the Manchester United Training Ground with a team there completing new season renovation works."
The SG1165, equipped with six-metre wings is the only machine dedicated to work at the Tillers Turf site, while the rest are utilised year-round by the contracting division – switching from grass collection to leaf collection when autumn arrives. "We see a big spike in hire requests from sports venues, golf clubs and local authorities when the leaves start to drop.
"The Trilo range being so straight forward to set-up is ideal to go out in those instances, where multiple operators can get stuck in, clear large areas and achieve a great finish."
"We work closely with both Jeremy and James Boyle who keep us up to speed on new developments and ensure everything keeps running like it should.
"With such a large number of people depending on us and our equipment, we need machines we can rely on and with Trilo, that's never in doubt."
https://landscapingmatters.co.uk/wp-content/uploads/2023/06/lords-outfield-renovation-med-64944580631dd.jpg
533
800
lm-admin
http://landscapingmatters.co.uk/wp-content/uploads/2022/02/LM-logo-1.png
lm-admin
2023-06-26 10:02:23
2023-06-26 10:02:23
Twenty-plus Trilos deliver 20-plus years of reliability for leading contractors Fineturf